Bruce A. Nasby, President
Global Advisory Associates President Bruce Nasby brings to the table more than 30 years of experience as a CEO and C-suite executive working with organizations in 40+ countries in the areas of business, nonprofit, education and youth-based empowerment. His expertise has helped launch multi-national programs and partnerships, including projects in markets of interest like China, Brazil, Singapore, South Africa, the Western European region and North America. Through his experience, he has developed a strong reserve of knowledge and best practices as well as a vast network of relationships with top-level executives around the world.
Bruce has been a speaker at World Economic Forum Regional Summits in Russia and Kazakhstan. He appeared as a guest on NBC's Today Show, and has been a panelist and/or participant at the UBS Philanthropy Forum in Geneva, Switzerland, the Forbes CEO Forum in Singapore, the Forbes CEO Middle East Forum in Doha, Qatar, Clinton Global Initiative in Hong Kong, the annual Milken Global Conference in Los Angeles and the World Innovation Summit for Education in Doha, Qatar. Bruce is an associate at Global Philanthropic, whose vision is to make available professional and affordable, executive-level, practitioner-based fundraising counsel.
Before founding Global Advisory Associates, Bruce served as Executive Vice President for Enactus (formerly known as SIFE) from 1998 through 2013. In this role, Bruce was responsible for launching and building the organization's international operation in 27 countries. During his tenure he helped to triple the number of universities involved in the program, increasing the total to 1600, and was successful in raising more than $100M in revenue for the organization and its affiliated programs.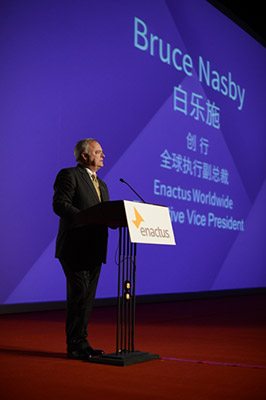 Bruce was also responsible for developing custom benefits packages for the Enactus' corporate partners including KPMG, Unilever, AIG, Coca-Cola and HSBC. For his leadership worldwide, he was recognized in 2013 as a Global Champion of Enactus, the organization's highest award.
Prior to his position at Enactus, Bruce served for fifteen years as CEO of Junior Achievement area offices throughout the United States including JA's largest operation in Los Angeles, California. During his tenure with JA, he served as National Program Director at the organization's headquarters in Stamford, Connecticut.
He also served as the President of the Greater Los Angeles Zoo Association, one of the world's largest zoological institutions. In this role, Bruce Nasby led a team of 67 full time employees, 225 seasonal staff and a 42-member Board of Trustees in supporting the needs of two million annual visitors, 500 volunteers, and 135,000 annual contributing members.
During his time at the zoo, Bruce successfully led several capital campaigns and set records for revenue and attendance that remain today as the highest in the zoo's 40+ year history.
Bruce Nasby is a graduate of the University of Arizona and served in the United States Navy where he received numerous medals and awards including the Navy Achievement Medal.
NBC Today Show
Television, radio and print media in over a dozen international markets including Shanghai, Kuala Lumpur, Bangkok, Singapore, Manila, Barcelona, Paris, Casablanca, Dubai and Doha